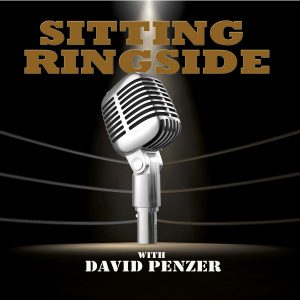 This week on Sitting Ringside, David Penzer is joined by the guy who said, "Any man with two hands has a fighting chance," Mr. James Ellsworth. Starting in the WWE as someone who was supposed to be used for just one night, Ellsworth has made quite the name for himself and turned that one time appearance into a couple of really good runs with the company. Now that he is back on in the indy scene, he's trying to make the WWE take notice with his Twitter hashtag #RehireEllsworth to make another improbable run.
This week on Sitting Ringside, David Penzer talks to Ellsworth about his start in the business, what his initial plans were in the WWE and who wrote his infamous promo before his debut match against Braun Strowman (the answer might surprise you), living out his bucket list by working WWE's biggest events, working with AJ Styles and Dean Ambrose, having Bray Wyatt and Chris Jericho take him under their wings, being paired with Carmella and working with the women, his relationship with Vince McMahon, the possibility of maybe working with Ring Of Honor or Impact Wrestling, and much more.
You'll come away from this interview with a whole new perspective of one of the most humble guys to appear on Sitting Ringside and the future is bright for one, James Ellsworth.
Thanks to VIVID SEATS for coming along this crazy Sitting Ringside ride with us and do they have a great deal for you. Just visit VividSeats.com or download the app to your mobile device, search for tickets to Raw, Smackdown, an indy show, a concert, or any other event, and then use to promo code RINGSIDE to receive 10% off your first order.
Thanks for listening and don't forget the and review the show on Apple Podcasts and Stitcher!
Make sure to follow David Penzer and "Sitting Ringside" on Twitter!
You can find the show on Apple Podcasts, Stitcher, TuneIn Radio, and Google Play!
Podcast: Play in new window | Download | Embed