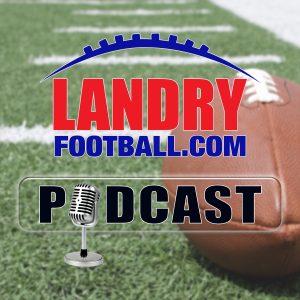 On Thursday's podcast, veteran scout and coach Chris Landry takes you through the NFL Supplemental Draft process and tells you what the Giants and Redskins got with their selections yesterday.
Also, he explains some of the interesting dynamics into the programs at Oregon, Colorado and Michigan and takes a look at some of the top FCS teams and players, some of the top special teams performers as well as potential surprise teams.
Finally, he helps some of you Fantasy Football Fans with a look at some NFL Quarterback possibilities and gives you a brief scouting look at the San Francisco 49ers.
Also, don't forget to check out the SUMMER SAVINGS SPECIAL Chris has for his readers at LandryFootball.com and get 50% off any membership for a limited time only.
Follow Chris Landry on Twitter and make sure to visit LandryFootball.com!
Subscribe to the Landry Football Podcast on Apple Podcasts, Stitcher, TuneIn Radio, and Google Play.
Podcast: Play in new window | Download | Embed