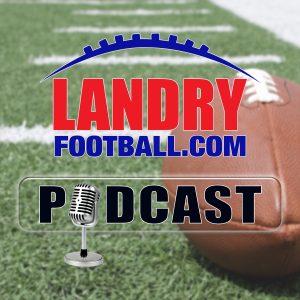 On today's Landry Football Podcast, veteran NFL scout Chris Landry looks at some of the top non-conference games in college football heading into the season and tells you who the top defensive line units and individual players at the position are in college football.
Speaking of the top players, Chris tells you who the top "Group of 5" players are heading into the season and as always. Plus, he opens up his mail bag to answer your questions on who some of the make or break quarterbacks in the NFL are this year, whether the Buccaneers have advanced their chances of making the playoffs or not, how will the new corners fit with the Rams, why Rutgers has never competed except for short stint with Greg Schiano and examines how good of a coach he really is and so much more.
Also, Chris continues his "X's & O's" series by explaining the ins and outs of Cover 2 coverage. Get all of this and much more in today's Landry Football Podcast. And don't forget to check out the SUMMER SAVINGS SPECIAL Chris has for his readers at LandryFootball.com and get 50% off any membership for a limited time only.
Follow Chris Landry on Twitter and make sure to visit LandryFootball.com!
Subscribe to the Landry Football Podcast on Apple Podcasts, Stitcher, TuneIn Radio, and Google Play.
Podcast: Play in new window | Download | Embed