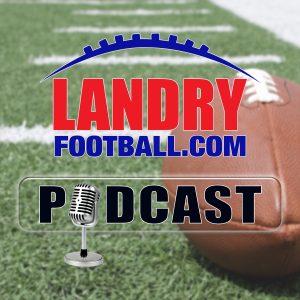 On today's Landry Football Podcast, veteran NFL scout Chris Landry examines the top offensive line units and lineman in college football heading into this season, discusses the new NCAA Transfer and Redshirt rules, and tells you why the Alabama Crimson Tide quarterback situation isn't as simple as it seems.
He also answers some of your questions including his take on Terrell Owens and continues his "X's and O's Series" by explaining the ins and outs of the Cover 1 defense.
Don't forget! You can also submit questions to Chris anytime and he will answer them right here on the podcast!
Get all of this and much more in today's Landry Football Podcast.
Don't forget to check out our SUMMER SAVINGS SPECIAL and get 50% off any membership for a limited time only.
You can also follow Chris Landry on Twitter and make sure to visit LandryFootball.com!
Make sure to subscribe to the Landry Football podcast on Apple Podcasts, Stitcher, TuneIn Radio, and Google Play.
Podcast: Play in new window | Download | Embed