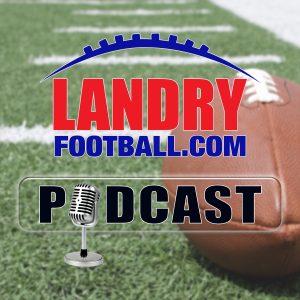 On today's Landry Football Podcast, veteran NFL scout Chris Landry clears out the mailbag and answers your questions. Among the things he answers is about Big 10 pass defenses, the state of the Illinois and Northwestern programs as well as Chicago area recruiting, the real reason why Urban Meyer left Florida, how Wisconsin has built their program, as well as looking back on the career of Marcus Dupree.
He also continues explaining more coaching and scouting terminology, analyzes the top running back units in college football and in his story time segment explains what could happen if you are not patient with your college or NFL program.
Don't forget! You can also submit questions to Chris anytime and he will answer them right here on the podcast!
Get all of this and much more in today's Landry Football Podcast.
Don't forget to check out our SUMMER SAVINGS SPECIAL and get 50% off any membership for a limited time only.
You can also follow Chris Landry on Twitter and make sure to visit LandryFootball.com!
Make sure to subscribe to the Landry Football podcast on Apple Podcasts, Stitcher, TuneIn Radio, and Google Play.
Podcast: Play in new window | Download | Embed