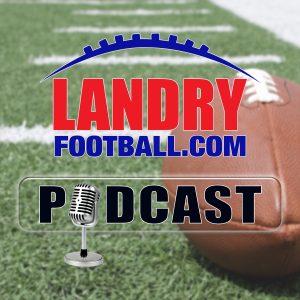 On today's Landry Football Podcast, veteran NFL scout Chris Landry explains some coaching and scouting terminology to help you better understand the game and explains the real story about statistics in football including the ones that are most relevant. He also answers your questions about offensive play calling, the past problems with the Texas Football problems, and what led to the problems at SMU back in the day.
Don't forget! You can also submit questions to Chris anytime and he will answer them right here on the podcast!
Get all of this and much more in today's Landry Football Podcast.
Don't forget to check out our SUMMER SAVINGS SPECIAL and get 50% off any membership for a limited time only.
You can also follow Chris Landry on Twitter and make sure to visit LandryFootball.com!
Make sure to subscribe to the Landry Football podcast on Apple Podcasts, Stitcher, TuneIn Radio, and Google Play.
Podcast: Play in new window | Download | Embed