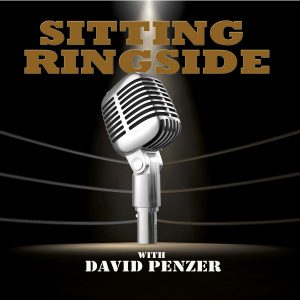 In 2000, actor David Arquette starred in a wrestling based movie called "Ready To Rumble." The movie featured several wrestlers from WCW including Chris Kanyon, Shane Helms, Diamond Dallas Page, and several others. As part of the promotion for the movie, Arquette and WCW agreed to have Arquette appear on WCW television to help cross promote the movie. The culmination of that appearance and angle has turned into one of the most controversial and talked about angle in pro wrestling history.
This week, Arquette joins David Penzer on Sitting Ringside to discuss his lifelong infatuation with and respect for the pro wrestling industry, how the movie "Ready To Rumble" came to be, the impact Chris Kanyon had on both the movie and Arquette personally, how WCW became involved and how he was approached to become the World Champion, why he wanted to do more physically in the ring but was handcuffed, why the whole angle still haunts him, and so much more.
It's Arquette's first podcast appearance in well over four years and after this conversation, there's no doubt that his title run may be viewed at slightly differently than it has.
This week's episode of Sitting Ringside is brought to you by the Good Cigar Company. For Father's Day this year do something different (go beyond ties and golf shirts!). Give Dad his own personal tobacconist with a Good Cigar Co subscription for a great price of $30 bucks and Sitting Ringside listeners can get 10% of their subscription by going to the Good Cigar Company website and using the promo code "RINGSIDE."
It's also brought to you by HIMS. 66% of men experience baldness by the time they hit age 35. Baldness can be an option now. HIMS connects you with real doctors and medical grade solutions to treat hair loss. No waiting room and no awkward doctor visits. You'll save hours by using HIMS. Visit ForHims.com/penzer to get a trial month for just $5 while supplies last!
Thanks for listening and don't forget to rate and review the show on all the major podcast platforms!
Make sure to follow David Penzer and "Sitting Ringside" on Twitter!
You can find the show on Apple Podcasts, Stitcher, TuneIn Radio, and Google Play!
Podcast: Play in new window | Download | Embed