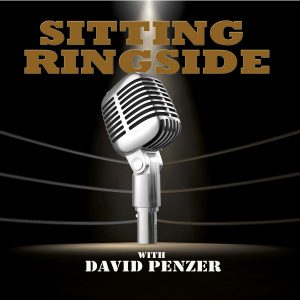 This week on Sitting Ringside, David Penzer is joined by former TNA announcer and merchandising guru Don West. The guys discuss how Don got started in the wrestling business, being portrayed on Saturday Night Live by Will Ferrell, the peak of TNA Wrestling's popularity, getting ribbed by Kevin Nash, working with the likes of Vince Russo, AJ Styles, Samoa Joe, Eric Young, Jay Lethal, Ric Flair, and others. Also, the legend of Simon Diamond and Shark Boy continues to grow.
Then, David is joined by Adam Rank, host of "NFL Fantasy Live" on the NFL Network. Adam is a lifelong wrestling fan. David is a die hard fantasy football freak. It's a match made in Heaven. The guys discuss how Adam became a wrestling fan, being in attendance for the Bash At The Beach that was main evented by Hogan and Vader, the Monday Night Wars, the build to Survivor Series, how he got involved in fantasy football, who on the show is a wrestling fan and who isn't, why they drop so many wrestling references. and more.
Thanks for listening and don't forget to subscribe and review the show on Apple Podcasts and Stitcher!
Make sure to follow David Penzer, Mike Freland, and "Sitting Ringside" on Twitter!
You can find the show on Apple Podcasts, Stitcher, TuneIn Radio, and Google Play!
Podcast: Play in new window | Download | Embed