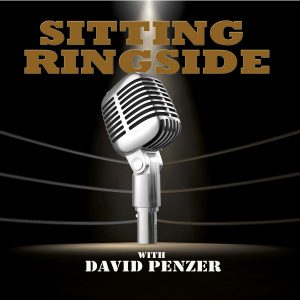 This week on Sitting Ringside, David Penzer and Mike Freland kick things off by discussing ESPN's "30 For 30" on the "Nature Boy" Ric Flair. David and Ric got to be close in WCW, often traveled together, and considers Ric a good friend so none of the wild stories about Flair really surprised David. That said, it's an interesting conversation due to the contrasting perspectives that David, an insider, and Mike, an avid Four Horsemen fan, bring to the table. The thing that really stuck out to David were the quotes by HHH and Jim Ross about Ric's personality and the conversation shifts to guys who live their gimmicks and those who don't know when to turn it off. David feels that once things settle down following the release of the show, Ric is going to sit down and do some soul searching about some of the things that were said about him.
Then, David is joined by former ECW/TNA wrestler turned agent Pat Kenney (aka Simon Diamond). The guys talk also talk about the Flair documentary but also go on to discuss how Simon got into the wrestling business and what really got him hooked, being involved in the creation of the "Super 8 Tournament," his ECW days of teaming with Johnny Swinger and how that came to be, Paul Heyman's money problems from not paying guys to working the system on how to fly talent to events on bereavement rates, his near miss on signing with WCW near the end of the promotion, the XWF, Scott D'Amore bringing him to TNA and his long tenure there as both a wrestler and an agent, the end of the Dixie Carter Era of TNA, and so much more.
Finally, the guys are joined by Shark Boy, who was last week's guest on the show, for a rousing 2017 version of their favorite road trip game, "What Would Stone Cold Say About…." You have to hear this to believe it.
Thanks for listening and don't forget to subscribe and review the show on Apple Podcasts and Stitcher!
Make sure to follow David Penzer, Mike Freland, and "Sitting Ringside" on Twitter!
You can find the show on Apple Podcasts, Stitcher, TuneIn Radio, and Google Play!
Podcast: Play in new window | Download | Embed