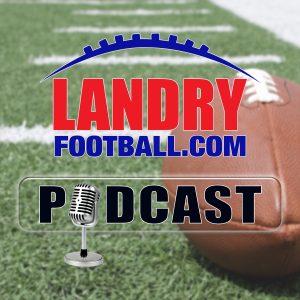 On today's episode, Chris takes you inside the NFL Owners' discussions and tells you how Cowboys owner Jerry Jones gained his power within the league, cultivated confidants, and why other owners feel he is trying to run the league for his benefit and not for the league as a whole.
Learn all the latest about his desire to fight the new deal for Roger Goodell after help put to get the committee to organize his extension. Also, you'll Learn what caused his stance to change and how it's rubbing some of the other owners the wrong way.
Chris also breaks down all the key College and NFL matchups this weekend. Join us for all this and more on today's episode.
All of this and more on today's edition of the LandryFootball Podcast!
Please join LandryFootball.com in helping flood relief victims in Texas and Florida. We will take 50% of your subscription cost and donate it to flood relief victims by personally buying needed items and delivering it for distribution in both Texas and Florida. Buy a one year membership for $99.00 and $50 goes to Hurricane Harvey/Irma relief victims. Buy a 50% discount subscription for $49.99 and $25.00 goes to the Hurricane Harvey/Irma relief victims.
For more of Chris' incredible football coverage, visit LandryFootball.com and become a subscriber!
You can also follow Chris Landry on Twitter!
Make sure to subscribe to the Landry Football podcast on Apple Podcasts, Stitcher, TuneIn Radio, and Google Play.
Podcast: Play in new window | Download | Embed