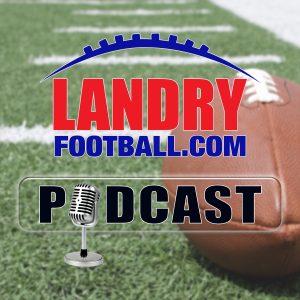 In today's episode, Chris takes a look at coaching search firms and why schools often turn to them when making coaching hires. What are the pros and cons? Does a search firm really help? Chris answers those questions and will explain the process as to how they work.
Chris also takes a look back at a busy week on the college and NFL scene and tell you how teams are looking inside the film room. Find out who the best 4 teams are in the film room, not the board room, and who still has a chance and who is heading for fall. On the NFL side, Chris tells you who is for real and who still has a lot left to prove.
All of this and more on today's edition of the LandryFootball Podcast!
Please join LandryFootball.com in helping flood relief victims in Texas and Florida. We will take 50% of your subscription cost and donate it to flood relief victims by personally buying needed items and delivering it for distribution in both Texas and Florida. Buy a one year membership for $99.00 and $50 goes to Hurricane Harvey/Irma relief victims. Buy a 50% discount subscription for $49.99 and $25.00 goes to the Hurricane Harvey/Irma relief victims.
For more of Chris' incredible football coverage, visit LandryFootball.com and become a subscriber!
You can also follow Chris Landry on Twitter!
Make sure to subscribe to the Landry Football podcast on Apple Podcasts, Stitcher, TuneIn Radio, and Google Play.
Podcast: Play in new window | Download | Embed