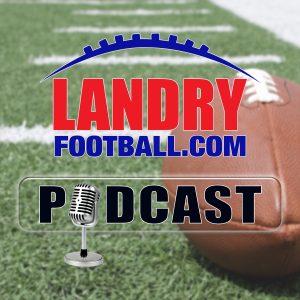 On today's edition of the LandryFootball podcast, Chris gives you the latest from the Browns as ownership is fuming over the bungled failed trade that didn't happen. Chris explains how he handled trades in the league and how it virtually impossible to screw up. He also explains how blocking schemes differ from a pro style offense versus a spread scheme concept.
He also goes through a busy College and NFL slate going over the keys and thoughts on all the games.
All this and more on today's edition of the LandryFootball Podcast!
Please join LandryFootball.com in helping flood relief victims in Texas and Florida. We will take 50% of your subscription cost and donate it to flood relief victims by personally buying needed items and delivering it for distribution in both Texas and Florida. Buy a one year membership for $99.00 and $50 goes to Hurricane Harvey/Irma relief victims. Buy a 50% discount subscription for $49.99 and $25.00 goes to the Hurricane Harvey/Irma relief victims.
For more of Chris' incredible football coverage, visit LandryFootball.com and become a subscriber!
You can also follow Chris Landry on Twitter!
Make sure to subscribe to the Landry Football podcast on Apple Podcasts, Stitcher, TuneIn Radio, and Google Play.
Podcast: Play in new window | Download | Embed