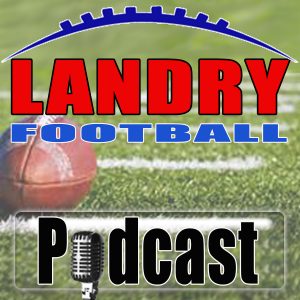 Radio Influence is pleased to welcome former NFL and College Football coach and scout and current NBC Sports Radio Football Analyst Chris Landry and his new podcast, "LANDRY FOOTBALL," to the Radio Influence family beginning Tuesday, August 15, 2017.
Each Tuesday and Thursday, Chris will break down the week's news and notes from both the NFL and College Football through the eyes of a coach, scout, and administrator who has worked with the likes of New England Patriots head coach Bill Belichick and Alabama Crimson Tide head coach Nick Saban.
Landry began his coaching career in the mid-80's at LSU as a student assistant and moved into a full-time role in 1992 with the Cleveland Browns. In 1993, Landry was selected as the Coordinator of the famed NFL Scouting Combine. He's also served as the Scouting Coordinator for both the Houston Oilers and Tennessee Titans before creating his own coaching and scouting consulting business, LandryFootball.com, that serves both NFL organizations and College Football programs.
"Chris is a guy I've known for well over a decade going back to our days with 'The Big Dog' Steve Duemig at 620 WDAE and his knowledge is second to none," said Jerry Petuck, CEO of Radio Influence. "He has the ability to explain the intricacies of the game in a way the average fan can understand. Not only is he one of the best football minds that I know, he's an even better guy. Football fans are going to love this."
"I'm excited to be working with the great folks at Radio Influence to bring the football fans the most unique and in-depth look at the College Football and NFL game from a coaching and scouting perspective," said Landry. "Fans are very sophisticated today and know what happened. I'll help explain to them why it happened by taking them inside the Film Room for the most credentialed analysis, previously only available to NFL teams and College Football programs."
"LANDRY FOOTBALL" will debut Tuesday, August 15, 2017 on Apple Podcasts, Stitcher, TuneIn Radio, Google Play, and RadioInfluence.com.
The Radio Influence family of shows include a variety of both terrestrial radio hosts and established internet providing a great mix and different perspectives on sports, entertainment, lifestyle, and more. All programs can be found on Apple Podcasts, Stitcher, TuneIn Radio, Google Play, and RadioInfluence.com.
For more information, contact Jerry Petuck at Petuck@radioinfluence.com.
Podcast: Play in new window | Download | Embed