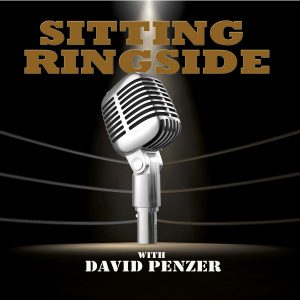 What can you expect from Sitting Ringside? As David himself put it, he's just a wrestling fan that was fortunate enough to live out his dream and see some of the biggest stories and angles in wrestling history from a perspective that very few can. He's doing this podcast to share his stories, the stories of some of the biggest names in pro wrestling, and more importantly to him, bring the stories of a lot of the people behind the spotlight front and center in a way that's never been done before.
On this his first episode, David chats with longtime WWE ring announcer Justin Roberts. Justin was with the WWE for 12 years and lived both the good and the bad side of the business in his time with the company. His new book, "Best Seat In The House," chronicles his journey as a ring announcer and has made some waves within the business in light of the current situation between Mauro Ranallo and the WWE.
The guys discuss the book, share a ton of stories about the differences between WWE and David's time at WCW, Vince McMahon, Connor's Cure, the Chris Benoit tragedy through both the eyes of a good friend of Benoit's (David) and the WWE side of things (Roberts) and how things played out that tragic ten years ago this past weekend, and so much more.
Thanks for listening and don't forget to subscribe and review the show on Apple Podcasts and Stitcher!
Make sure to follow David Penzer, Mike Freland, and "Sitting Ringside" on Twitter!
You can find the show on Apple Podcasts, Stitcher, TuneIn Radio, and Google Play!
Podcast: Play in new window | Download | Embed