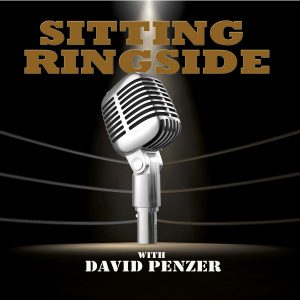 Radio Influence is very pleased to welcome "SITTING RINGSIDE WITH DAVID PENZER," hosted by longtime pro wrestling personality David Penzer and Mike Freland, beginning June 26, 2017.
Each week, Penzer and Freland will be joined by the biggest stars of the pro wrestling industry and more importantly to Penzer, a visit behind the spotlight with some of the people that you may not know from being on the camera but were vitally important to some of the biggest pro wrestling angles, events, and broadcasts.
Penzer entered the pro wrestling industry in 1988 as a ring announcer in South Florida for the Global Wrestling Alliance until he joined Ted Turner's World Championship Wrestling in 1993. He remained in WCW as a ring announcer, producer, and in talent relations through the historic "Monday Night Wars" until the company was sold in 2001. Since then, Penzer has worked for the XWF, done tours of Australia with the World Wrestling All Stars, and been a ring announcer for TNA Wrestling. Right now, he works as the Logistic Director for The Legends Of Wrestling promotion, a Special Assignment Correspondent on "The Hannibal TV" on YouTube, and is currently the ring announcer for Anthem Sports' "Impact Wrestling," which can be seen every Thursday night at 8p EST on Pop TV.
"I am eager to start this project and offer wrestling fans a new spin on the usual wrestling podcast," Penzer said. "I'll bring my unique experiences from Sitting Ringside for nearly 30 years and stories from some of the amazing people I've met along the way. I look forward to teaming with the guys at Radio Influence to bring wrestling fans something very special."
"When I was approached by Dave with the concept of Sitting Ringside, I thought it was great," said Jerry Petuck, CEO of Radio Influence. "I know it's very important to Dave, not only to bring the household names of pro wrestling to his listeners, but to also honor the guys behind the scenes who never get the credit they deserve and bring their voices and stories to the forefront as well."
"SITTING RINGSIDE WITH DAVID PENZER" will debut Monday, June 26, 2017 on Apple Podcasts, Stitcher, TuneIn Radio, Google Play, and RadioInfluence.com.
The Radio Influence family of shows include a variety of both terrestrial radio hosts and established internet providing a great mix and different perspectives on sports, entertainment, lifestyle, and more. All programs can be found on Apple Podcasts, Stitcher, TuneIn Radio, and Radio Influence.com.
For more information, contact Jerry Petuck at Petuck@radioinfluence.com
Podcast: Play in new window | Download | Embed